West Park Village
West Park Village is a compilation of nine different Neighborhoods to create this Neighborhood within Westchase. The nine Neighborhoods that comprise West Park Village are: The Village Green, Villas of West Park Village, Classic Townhomes of WPV, Single Family Homes of WPV, Townhomes of WPV, Traditional Townhomes of WPV, Arlington Park, Worthington Townhomes and Reserve at WPV. In West Park Village, the neo-traditional, urban style of living is evident in the different types of homes, the expansive front porches, village green spaces with gazebos and swings, alley entry and street parking style. Interspersed amongst the different style of homes you'll find the Westchase Town Center which rounds out the urban lifestyle. Jaunt to the Village Market, a restaurant, a coffee shop or drop off your dry cleaning … it's all on your doorstop. Also within close proximity is the Bell Tower, fountains, village greens, dog green, splash park, outdoor stage plus the West Park Village Swim & Tennis Center and Baybridge Park. There aren't many places like it in Tampa, it's a unique and close knit community. Below you will find the current Voting and Alternate Voting Members for this Neighborhood including their contact information:
Voting Members are elected biennially by the Neighborhood Residents at the Neighborhood Meeting which is typically held in December/February of every other year. If you are interested in getting involved as a Voting or Alternate Voting Member, please contact the Westchase Community Association and ask to be included in the next election.  Westchase is always looking for more dedicated, civic-minded volunteers!
Several Neighborhoods in Westchase have sub-Associations that govern them as well as being governed by the Westchase Community Association.  Classic Townhomes of WPV, Townhomes of WPV, Traditional Townhomes of WPV and Villas of WPV all have their own Homeowners Associations which are considered a sub-association.  The residents of those neighborhoods pay Westchase Homeowner's Association dues plus monthly maintenance.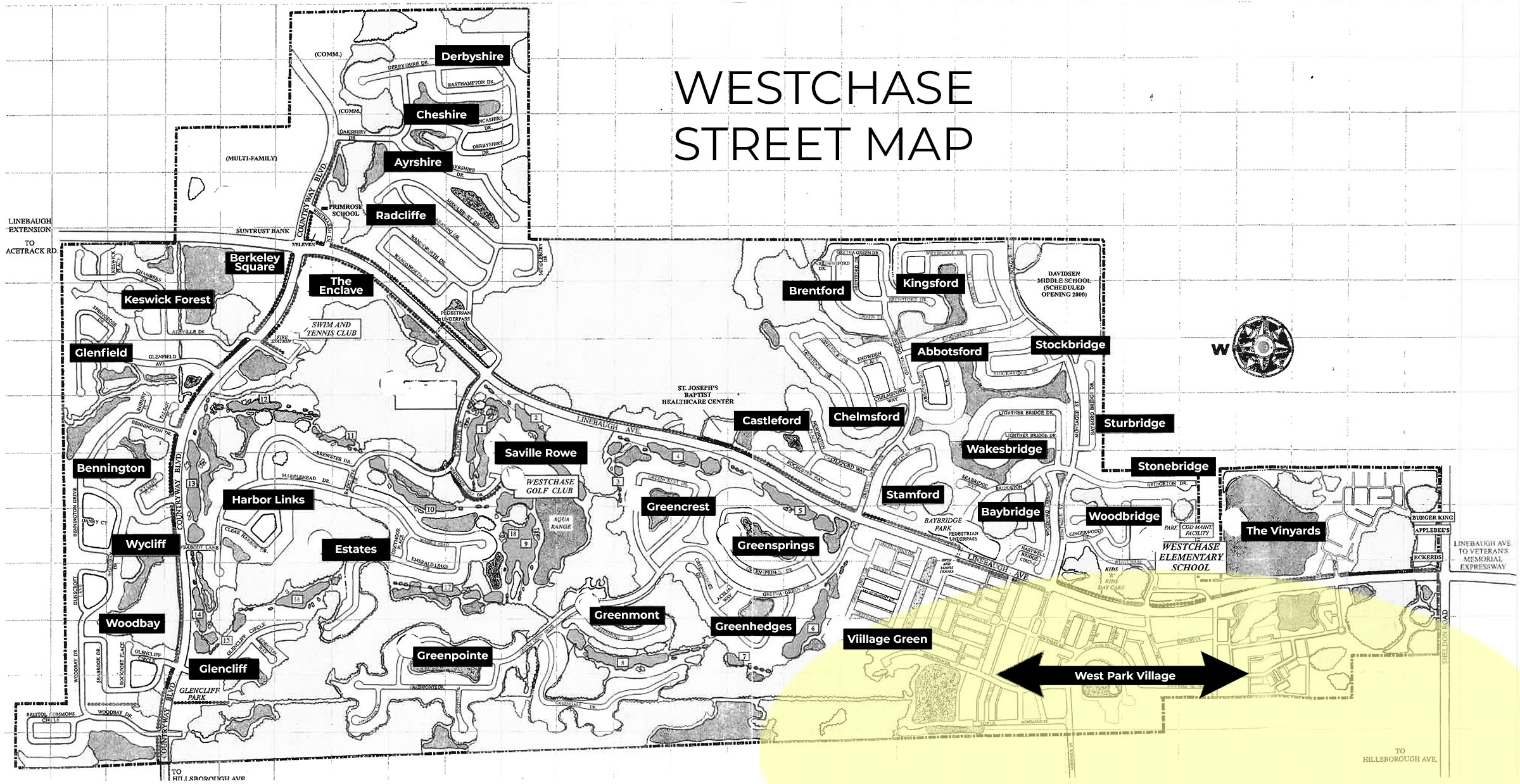 The sub-Associations also have a Neighborhood Property Manager, the Property Manager information is:
Property manager information for: Villas of West Park Village is as follows:
Westcoast Management
Chris Cernosek, Property Manager
4917 Ehrlich Rd
Suite #104
Tampa, FL 33624
813-908-0766
ChrisC@wcmanagement.info
Property manager information for: Traditional Townhomes is as follows:
Westcoast Management
Chris Cernosek, Property Manager
4917 Ehrlich Rd
Suite #104
Tampa, FL 33624
813-908-0766
ChrisC@wcmanagement.info
Property manager information for: Townhomes of WPV is as follows:
Greenacre Properties, Inc.
Angela Parker, Community Association Manager
4131 Gunn Highway
Tampa, FL 33618
813-600-1100 Ext. 130
AParker@greenacre.com
Property manager information for: Arlington Park Condominiums is as follows:
Real Manage Property Mgmt
Brook Summers, Community Association Manager
5523 W Cypress St #102
Tampa, FL 33607
866-473-2573
arlparkw@ciramail.com
Property manager information for: Worthington Townhomes is as follows:
Sentry Management
Bonnie Skifstad, Community Association Manager
28050 US Highway 19 North, Suite 509
Clearwater, FL 33761
727-799-8982 ext 53012
bskifstad@sentrymgt.com
Property manager information for: Reserve at West Park Village is as follows:
Greenacre Properties, Inc.
Laura Coleman, Community Association Manager
4131 Gunn Highway
Tampa, FL 33618
813-600-1100 Ext. 113
lcoleman@greenacre.com