The Vineyards
The Vineyards is one of Westchase's 29 neighborhoods and is one of the first neighborhoods you encounter as you enter from the East off Sheldon Road. Situated just North of Linebaugh Avenue and next to the large community pond near Westchase Elementary sits this fantastic gated neighborhood. The Vineyards features single family homes on essentially zero lot lines and these homes are low maintenance. This intimate neighborhood of neo-traditional, porch-style homes features its own community pool. This community is within walking distance to the newer Westchase Town Center. The streets located within this neighborhood include: Apple Valley Way, Colonial Garden Lane, Crystal Commons Way, English Silver Way, Ivy Brooke Court, Spring Garden Way, French Carriage Circle, Gracewood Way, Ashford Gables Court, Needlepoint Place, Laurel Glen Place, Spring Mountain Place and Sierra Vista Place. Please visit The Vineyards website to learn more about our community.
Below you will find the current Voting and Alternate Voting Members for this Neighborhood including their contact information:
Voting Members are elected biennially by the Neighborhood Residents at the Neighborhood Meeting which is typically held in December/February of every other year. If you are interested in getting involved as a Voting or Alternate Voting Member, please contact the Westchase Community Association and ask to be included in the next election.  Westchase is always looking for more dedicated, civic-minded volunteers!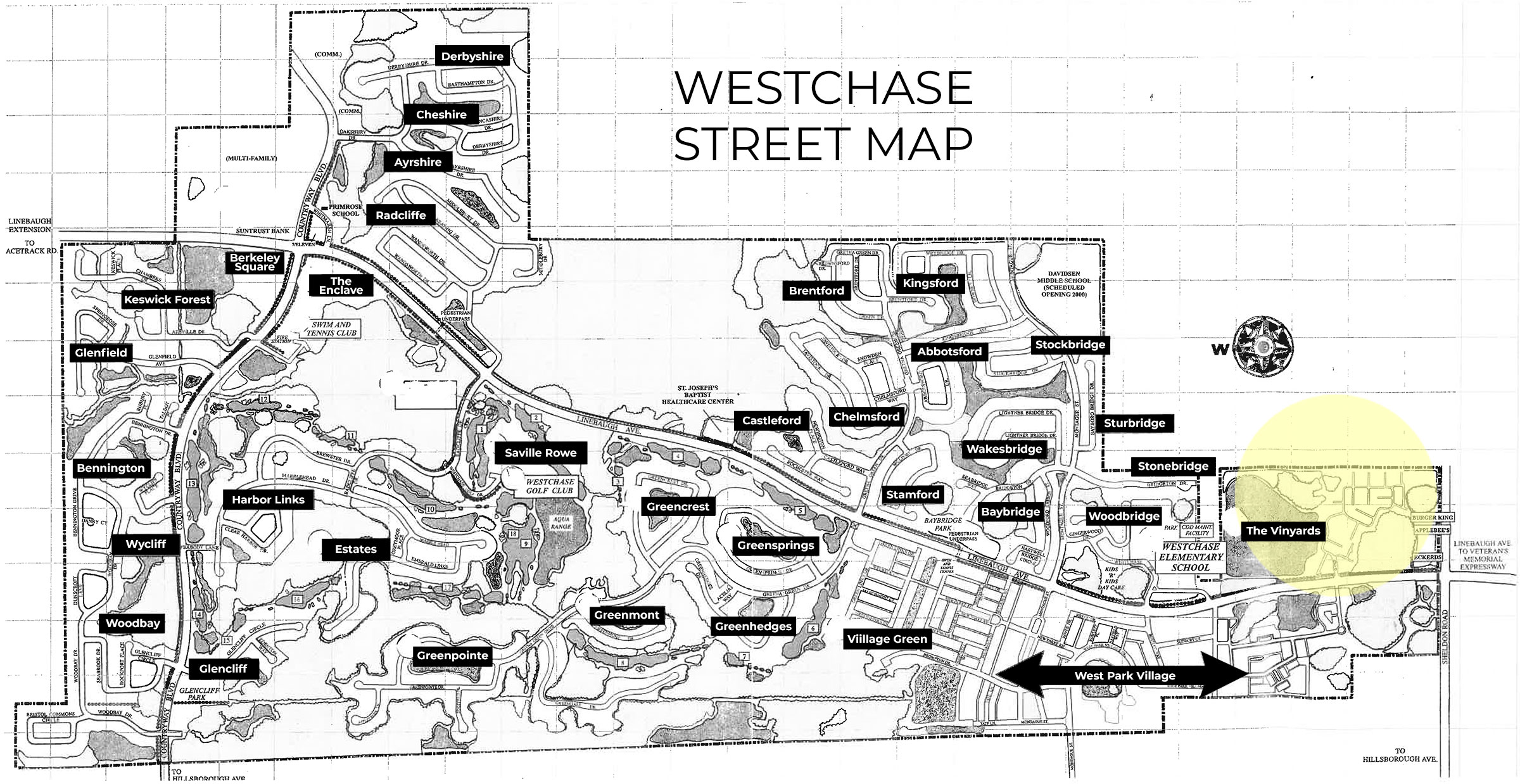 The Vineyards also has a Neighborhood Property Manager, the Property Manager information is:
Greenacre Properties, Inc.
Denise Schek, Community Association Manager
4131 Gunn Hwy
Tampa, FL 33618
813-600-1100 ext. 117
dschek@greenacre.com